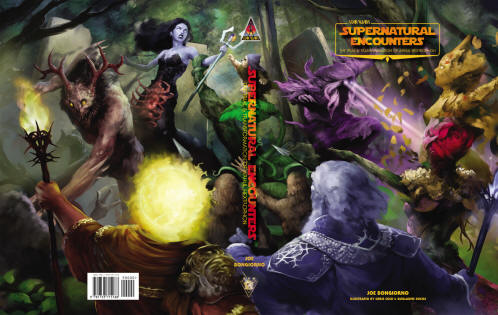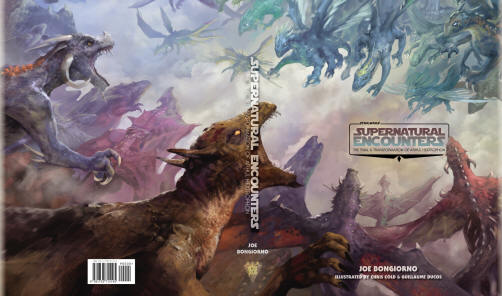 ---
©2020, Chris Cold; "Ooradryl"
-What's the behind-the-scenes history of the Encounters duology?
"Cult Encounters of the Star Wars Universe" and "Supernatural Encounters of the Star Wars Universe" were originally intended to be published as articles in Star Wars Gamer magazine, as followups to "The University of Sanbra Guide to Intelligent Life: The Marvel Series" in Star Wars Gamer (2000), an in-universe article Rich Handley (my co-author of Cult Encounters) and I wrote for the first issue of the magazine, with illustrations by Joe Corroney.
Although Rich and I received the greenlight from Lucasfilm, only "Cult Encounters" was far enough along when Star Wars Gamer ended in 2002. They were later conceptually reworked as "Cult Encounters: Excerpts from the Last Days of Arhul Hextrophon" and Supernatural Encounters: The Trial and Transformation of Arhul Hextrophon, novellas that had been intended for publication on the Star Wars Hyperspace service, a Lucasfilm exclusive content initiative for which several articles, novellas, and short stories had been commissioned, such as Rich Handley's "Lando Calrissian: Idiot's Array" in 2008.
The framework of Supernatural Encounters was first written at the end of 2007. Pablo Hidalgo, an old colleague from my West End Games (and SWFA) days, who was then in charge of the Star Wars site, approved it for publication on Hyperspace. I signed a licensing agreement and a tax form and proceeded. A work of this nature--involving the ancient past--required a lot of work, research, and editing to make sure everything was right, and I was given the time time to continue working on the manuscript until it was put on the schedule. Work on Supernatural Encounters was yet ongoing when, in 2010, it was abruptly announced that the new management at LFL were discontinuing Hyperspace.
Since CE and SE were never cancelled, it was hoped that they would find a new home elsewhere and I continued working on the manuscript.
In the interim, concepts from the Encounters duology were incorporated into other works by my colleagues. Ampotem Za was added in the 2007 Hyperspace article "Aliens of the Empire," by Abel G. Peña and Rich Handley. The Rozzum and Typhojem found their way into the Knights of the Old Republic Campaign Guide and Book of Sith: Secrets from the Dark Side, by Dan Wallace.
Then, in late 2015, Rich Handley and I approached Lucasfilm regarding the Encounters duology, as they had expressed interest in publishing the works on the new Star Wars Blog. Matt Martin (of the Lucasfilm Story Group, who then ran the site) and Dan Brooks (who ran the Blog) approved the works for publication, with the plan being to publish them in parts due to the length of Supernatural Encounters. I suggested an alternative means: posting them on my personal website as Abel G. Peña had done with SkyeWalkers, which had been published earlier that year. They could then be linked to or embedded in the Blog. They approved this and my plan to further edit the works over the coming months to ensure they were up-to-date.
With no response from them in 2017, I posted Cult Encounters on the site, followed by a beta version of Supernatural Encounters the year after to gauge whether there was enough interest to continue editing and hiring illustrators. As there was, I continued. While I haven't heard anything from LFL in recent years, it's no secret that their focus has shifted away from the pre-2014 EU, which is their prerogative, just as mine is to get the story out to the public, which this site has done with all unpublished Star Wars works.
-Is Supernatural Encounters licensed?
Yes; I filled out the requisite legal documents (a CA-587 form, which is called a Non-Resident Withholding Allocation Worksheet and W-9 tax form) when the stories were first approved for publication by Pablo Hidalgo, the same licensing process I went through for my previous contributions to the Expanded Universe. There isn't any Lucasfilm licensing process beyond this. The 2008 and 2013 emails between me and Lucasfilm which attest to the veracity of this can be read here.
What material is restored in the "extended edition?" Why was it cut?
For the beta version released online, I had cut out swathes of material that I felt needed more time, development, and which might conflict with Star Wars: The Old Republic. I have since restored numerous vignettes, history, and continuity pertaining to the Sith, the Mecrosa, the Sorcerers of Tund, the Sorcerers of Rhand, forgotten wars such as the Qaldyon Reckoning, and lore cut from the Knights of the Old Republic Campaign Guide as well as content from Abel's unpublished "Vader's Legacy." There is a lot of additional revisions and improvements to dialogue and characterization, as well as things normal for the editing process and to ensure continuity with pre-existing works. In addition, full-color illustrations by the amazing Chris Cold and Guillaume Ducos have been provided. The plan to continue editing the work further was understood and approved, and is typical of online Star Wars publications (such as my colleagues' stories on Hyperspace and the Wizards of the Coast website). I consider the new edition to be the definitive version.
-Will Supernatural Encounters be printed?
Until LFL says otherwise, it will not be sold commercially or in bookstores, though contributors at a certain level have received physical copies. While Del Rey is aware of the work, the physical copy was a non-profit work offered as a perk so that dedicated collectors can have something on their shelves; Supernatural Encounters exists as a free PDF to the public.
-How did you become involved in Star Wars? What was your involvement before Supernatural Encounters?
I first got involved via West End Games thanks to Bill Smith, who invited me to write an RPGA for the Star Wars: The Roleplaying Game (my first credit appeared in the Star Wars Gamemaster Screen, Revised Edition; 1996). I went on to contribute to the Star Wars Insider by Titan Magazines and Star Wars Gamer by Wizards of the Coast (who gained the license for Star Wars role-playing material after WEG went belly-up). My timeline was solicited and submitted to West End Games and Dark Horse Comics. Rich and I wrote introductions for the reprinted Marvel series (with an illustration by Robin Pronovost), and provided Dark Horse with all the rare material published in the Wild Space omnibus. Other projects came and went. Abel G. Peña, Rich Handley, and I began work on Star Wars: The Essential Reader's Companion, which went to Pablo. You win some, you lose some...
Most recently, aside from my work on the Encounters duology, I've worked on several non-fiction Star Wars essays for Sequart Books, A More Civilized Age: Exploring the Star Wars Expanded Universe, A Galaxy Far, Far Away: Exploring Star Wars Comics and A Long Time Ago: Exploring the Star Wars Cinematic Universe.
-Who else worked on the Encounters duology?
There are many amazing proofreaders and contributors to thank. Rich Handley co-wrote Cult Encounters with me. Edward Dodds, my editor and go-to Sith historian, Ryan "Sinrebirth" Shepherd, my editor and former contributor to The Essential Atlas and The Essential Guide to Warfare, Kyle Rawlings, Patrick Maes, Corey Carter, and proofreaders Harry Thornton, Robert Newnham, Greg Mitchell, Luke Van Horn, Matt Wilkins, Derek Stevens, and Abel G. Peña.
-What is the future of Supernatural Encounters?
After the publication of the extended edition, I am still hoping for republication on the Star Wars Blog for visibility purposes, but other than that, I'm just grateful fans got to finally see the work. Beyond that, there is a lot coming down the pike, including a full-cast audio-drama, soundtrack, Atlas Appendix, Alien Guide, and more!
-Will Supernatural Encounters lore appear on Wookieepedia?
That's for the fans to decide. As far as I'm aware, many had already begun chronicling lore on Wookieepedia, although I believe it's current leaders have taken the stance that the work is "cancelled" (which it never was) or "unlicensed" (which isn't accurate either) and have labeled it as such. I'm not involved with any of that, though I did forward my emails with Lucasfilm executives to the administrators so as to help the folks at Wookieepedia properly categorize the work. They appear to have disregarded it.
-Is Supernatural Encounters canon?
That's a tricky question since canon means something quite different now than when I wrote the work. Matt Martin understood the work to be "Legends" and approved it for publication as such, although I had incorporated some elements of lore from newer material since SE puts forth what I call a "One Canon: Three Universes" approach, which accommodates every stripe of fan.
It was intended to be an Expanded Universe work, and due to being both Lucasfilm-licensed and approved for publication via my website, I believe it would have been categorized as C-canon in the old classification system, although how that applies to post-Disney works of the old Expanded Universe (particularly those which have been published somewhat unconventionally such as SkyeWalkers and Supernatural Encounters) is unclear to me, and as I'm not Keeper of the Holocron, I can't state things regarding canonicity authoritatively.