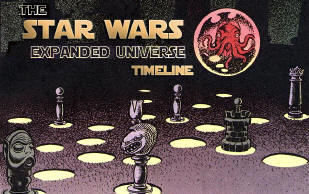 Click on the era symbol for description
Click on the title to go that particular era
Lost (and found) Star Wars stories

Articles, columns and quotes in defense of the Star Wars Expanded Universe!

The goal of the all-volunteer, non-profit Twin Suns Foundation is to promote reading and writing around the world, and serve as the voice for the Star Wars Expanded Universe Movement! Fundraisers, book donations, billboards, check 'em all out today!

Eddie Van Der Heidjen's amazingly exhaustive page!

Robert Mullin's wildly unique chronology project attempts to fuse the EU canon with Disney's.

Long forgotten, un-reprinted Star Wars adventures and nonfiction literature

TBone's famous Star Wars site include cut-scenes, scripts, and so much more!

Plif lives with Marvel Star Wars stats and loads of fun pages!

Fascinating study of the changes made to the original trilogy

This site's original pre-Filoni Clone Wars Timeline

Another chronology of the Clone Wars incorporates older stories in relation to the animated series

Everything you always wanted to know about the Star Wars Holiday Special!
Starwarstimeline.net is on:

Novels & Other Books
---
| | |
| --- | --- |
| TITLE: | Monsters and Aliens trilogy (Alien Exodus and Human Exodus) |
| CREATOR(S): | Robert J. Sawyer |
| PUBLISHER: | Bantam |
| DESCRIPTION: | Planned trilogy of novels for 1995 cancelled when ties to the Star Wars galaxy were not permitted. The title of the first novel was to be Alien Exodus. |
| SUMMARY: | A trilogy of novels outlining the origins of the races that make up the Star Wars universe. Humans from the 25th century Earth are displaced in space and time and seed a galaxy far, far away with the human race a very long time ago. |
| SOURCE INFO: | |
| RELATED LINKS: | |
---
---
---
---
---
TITLE:

CREATOR(S):

Karen Travis

PUBLISHER:

Del Rey

DESCRIPTION:

Imperial Commando 2 is a canceled novel that was scheduled to follow Imperial Commando: 501st as a continuation of the Republic Commando series.

SUMMARY:

In this followup to "Imperial Commando: 501st" the Clone Wars are over, and the Republic commandos now wear the white armor of the stormtroopers in service to the Galactic Empire. But not all those commandos are loyal to the Emperor, turning the fight against the rebels into a war between clone brothers! The newly-fledged Empire is strengthening its foothold on Mandalore, but Kal Skirata's clan of clone deserters and fugitive Jedi face a new threat as an older, more insidious enemy emerges from decades in hiding. The Death Watch is back. The loathed Mandalorian hardliners - the brutal nationalist faction that murdered Jango Fett's parents - are now on the Imperial payroll, threatening to bring civil war to the Mandalore sector. As Clan Skirata prepares to settle old scores, knowing they may lose the battle, Imperial commandos Darman and Ninerarrive on a covert mission that will put them on a collision course with their former brothers. Their task: to hunt down and kill eccentric Jedi Master Djinn Altis, an unlikely ally of Clan Skirata. But Darman has plans of his own that he hasn't even revealed to Niner. He's come looking for his son, Kad. The galaxy is a dangerous place for a kid who's half-Force user, half clone, and Darman's set on getting Kad out of the reach of both the Emperor and the last of the Jedi any way he can - even if that means taking on the man he's always called father.

The novel was originally to be written by Karen Traviss, who penned the previous novels.[3] However, Traviss withdrew from the project over contractual issues[4] and continuity changes introduced by The Clone Wars TV series.

Despite Del Rey and Lucasfilm Licensing later giving the novel a tentative release date of February 2012 with an unknown author attached, Sue Rostoni confirmed on July 19, 2010 that the novel had been canceled.

According to Traviss' FAQs on her official website, she would have ended the cancelled book as follows:

Bardan Jusik would have rubbed Arla Fett's memory, enabling her to cope with her trauma. Afterwards, she would have forgotten being Arla Fett or what had happened to her family, but she didn't feel the pain of memory. She and Jusik would then have gotten married.

Kal Skirata and Djinn Altis would have teamed up, and the Nulls would have helped Altis fake his death to escape the Empire. Scout would have been adopted by Mij Gilamar and Dr. Uthan, but she would have joined Altisian Jedi.

Skirata and Nyreen Vollen would marry, as would Gilamar and Uthan.

Maze and Arligan Zey would have gone off traveling with Altis and Kina Ha.

Skirata would have reached some kind of peace with some of the Kaminoans, and Dr. Uthan would have perfected the treatment to stop the clones' accelerated aging.

Darman would have returned to Mandalore, kidnapped his son Kad, and gone on the run. Niner would have deserted the 501st Legion and joined the clan at Kyrimorut.

The Death Watch would have found out about Dred Priest's death at the hands of Gilamar, and would have started hunting for Clan Skirata.

Rede would have turned out to be loyal and not naïve, and Skirata would have been forced to kill him to save the others—an act that would have haunted him until his death.

Clan Skirata would have been forced to flee Mandalore in a ba'slan shev'la (strategic disappearance) to evade the Empire. Darman would have joined the clan in their disappearance, bringing Kad with him.

SOURCE INFO:

Wookieepedia
---
---
---
---
---
TITLE:

CREATOR(S):

Tom Veitch (& Dave Dorman painted illustrations)

PUBLISHER:

Dark Horse Comics

DESCRIPTION:

Infamous cancelled graphic novel

SUMMARY:

Now considered a Jedi Master, Luke Skywalker encounters a Dark Jedi named Kam Solusar, son of a Jedi slain by Darth Vader, at the derelict space city Nespis VIII. Kam spent years hiding from the Empire in the most remote parts of the galaxy. When his whereabouts were discovered by a group of Dark Jedi, he was tortured and forced to embrace the Dark Side of the Force. The reborn Emperor used him as one of his personal Dark Jedi on Byss. When Luke first met him on Nespis VIII, Luke sensed his strength in the Force behind the Dark Side facade, and challenged Kam to a game of Lightsider, an ancient Jedi Force-game. Luke won, and convinced Kam to return to the Light Side, and gains a new ally in the way. Kam eventually returned to Luke, joining the Jedi candidates on Yavin 4. He became one of Luke's most gifted apprentices, and became a full Jedi Knight several years after the death of Palpatine's clones. (conjecture based on the Dark Empire II audio drama)

Would have introduced Kam Solusar, Sedriss QL, Krdys Mordi, Baddon Fass, Vill Goir, Zasm Kath and Kvag Gthull, all dark side characters later featured in Dark Empire II and Empire's End.
---
---
---
---
---
---
---
---
---
---
TITLE:

Cult Encounters: Excerpts from the Last Days of Arhul Hextrophon

CREATOR(S):

Joe Bongiorno & Rich Handley

PUBLISHER:

Wizards of the Coast

TITLE:

Supernatural Encounters: The Trial and Transformation of Arhul Hextrophon

CREATOR(S):

Joe Bongiorno

PUBLISHER:

Hyperspace

DESCRIPTION:

Works in progress at the time of the Star Wars Gamer cancellation, revamped for Hyperspace

SUMMARY:

"Cult Encounters" and "Supernatural Encounters" were intended as follow-ups to the "Alien Encounters" in-universe article published in Star Wars Gamer #1. "Cult Encounters" detailed the darker cults of the galaxy, as revealed in several Marvel UK stories, while "Supernatural Encounters" looked at the possible origins of the galaxy as discovered by Arhul Hextrophon and his droid Q9 on a dangerous mission to Otherspace. It tied in the Lovecraftian entity "Wutzek" ("The Pandora Effect"), as well as the beings from "Tilotny Throws a Shape" with material published in West End Games RPG supplements and sourcebooks. There was no exact date set for publication (for the Cults piece): "It should have followed up the Alien Encounters by an issue or two (which is why it was sent to LFL for approval), but Rich starting having personal problems, so we postponed it for some time. Eventually, they were ready to go and the new editor was apprised of that, but unfortunately, it was too late as Gamer was soon after cancelled."
- Joe Bongiorno

Both Cults and Supernatural were later expanded into a novel-length work for Hyperspace in 2005, and were approved for publication by Pablo, but they remained unpublished when that site shut down.

SOURCE INFO:

www.starwarstimeline.net

MORE INFO:

UPDATE! "Cult Encounters" was published here!

UPDATE! Supernatural Encounters was published here!
---
| | |
| --- | --- |
| TITLE: | |
| CREATOR(S): | Karen Traviss |
| PUBLISHER: | Del Rey |
| DESCRIPTION: | Imperial Commando 2 is a canceled novel that was scheduled to follow Imperial Commando: 501st as a continuation of the Republic Commando series. |
| SUMMARY: | An untitled Boba Fett novel was supposed to be written by Karen Traviss for release in 2011. It was to be set after the Legacy of the Force series and to contain some flashbacks into Boba Fett's past. However, after Traviss's unforeseen departure from Star Wars after Imperial Commando: 501st, the book was canceled. Traviss later stated in an interview that the reason the Boba Fett book was canceled was because of an issue involving the Star Wars live-action TV series. |
| SOURCE INFO: | Wookieepedia |
---
TITLE:

CREATOR(S):

Elaine Cunningham

PUBLISHER:

Del Rey

DESCRIPTION:

Blood Oath was a novel set to be written by Elaine Cunningham and released in April 2009. Issues beyond the author's control led to delays in the submission of the manuscript, which caused Blood Oath's release date to be pushed back first to December, and then to April 2010. In August 2009, Lucasfilm Ltd. and Del Rey had yet to receive a manuscript, and decided to cancel the book.

SUMMARY:

Set in 41 ABY, the novel was going to star the Jedi Knight Zekk, who, after having been separated from the Jedi Order, would encounter a pirate captain who was involved in a brewing conflict. Zekk would team up with the Hapan sisters Trista and Taryn Zel to halt the conflict. Jagged Fel, the newly-appointed Head of State of the Imperial Remnant, would have been the focus of another plot that dealt with him settling into his role. However, Blood Oath's cancellation rendered its events non-canon.

"Events beyond the author's control, or wishes, have caused the delays. I know, that really doesn't tell you much, but it's not my story to tell, ya know?"

―Sue Rostoni[src]

In 2008, Lucasfilm Ltd. extended an existing publishing contract with Del Rey books, granting them the rights to publish forty-five Star Warsbooks from 2009 to 2013. One of the novels slated for spring 2009 was Blood Oath, which author Elaine Cunningham had been hired to pen; Cunningham had previously written the 2002 Star Wars novel The New Jedi Order: Dark Journey. Prior to the official announcement of the contract extension on StarWars.com, a listing for Blood Oath appeared on Random House's online catalog in early September 2008. The announcement was made one week later, and Blood Oath received a press release on September 18. It revealed that the novel would star the Jedi Knight Zekk and would be set shortly after the eventsof the nine-book Legacy of the Force series, which had been published from May 2006 to May 2008. At the end of September, Sue Rostoni, the Executive Editor of Lucas Licensing, gave a release date of April 28, 2009.

Cunningham was late delivering her manuscript of Blood Oath, which prompted Lucasfilm Ltd. and Del Rey to delay its release date to December 2009. It was a move they regretted, as they had hoped for the novel to be released concurrently with Fate of the Jedi: Outcast, a novel scheduled for March 2009 and set two years after Blood Oath. The new release date was December 29. On January 6, 2009, StarWars.com released a publisher's summary and artist Dave Seeley's cover art for the book.

Cunningham had been blogging about the book, but the deletion of her blog and the removal of Blood Oath from the Random House catalog in June led to fan speculation that the novel had been canceled. Rostoni revealed that the manuscript had yet to be turned in due to events beyond Cunningham's control or wishes, and that although Lucasfilm Ltd. wanted to keep the novel in their lineup, Blood Oath would indeed be canceled if the manuscript was not submitted soon. Assuming that the manuscript came in, the book now had a projected release date of April 2010. By August, however, the manuscript had not been submitted, and Blood Oath was canceled.

"Alongside Jaina Solo, he confronted the forces of Darth Caedus—the most powerful of the Sith Lords—in a battle that nearly destroyed him. But his story isn't over. For Zekk, the future holds much more…"

―Publisher's Summary[src]

Cunningham described Blood Oath as an adventure story that also contained political intrigue, humor, and romance. It was set to feature the Jedi Knight Zekk, who had made his debut in the 1995 young adult novel Young Jedi Knights: The Lost Ones and had played a sizeable role in the subsequent New Jedi Order, Dark Nest, and Legacy of the Force book series. In Legacy of the Force's finale, Invincible, Zekk and his long-time friend and fellow Jedi Knight Jaina Solo had been in battle with Solo's brother, the Sith Lord Darth Caedus, when Zekk's StealthX starfighter had gone missing and his Forcesignature had disappeared from Solo's senses.[8] Blood Oath was going to begin with Zekk spinning in his StealthX and cover his quest to rejoin the Jedi Order.

Desperate to contact the Order, Zekk would find himself at the mercy of a pirate captain and in the middle of a volatile conflict that he would work to halt. Along the way, he would encounter the Hapan sisters Trista and Taryn Zel, who had made their first appearance in Invincible. The Zels' cousin Tenel Ka Djo, the Queen Mother of the Hapes Consortium, would be the subject of an assassination attempt by the Imperial Remnant's Council of Moffs, who had uncovered an ancient secret capable of destroying all of the Hapan people. Meanwhile, Jagged Fel, the newly-appointed leader of the Remnant, would step into his role and make efforts to reign in the Moffs and their nest of intrigue.

"What was going to happen in it didn't really happen. Not like any of this really happens… but you know what I mean." ―Sue Rostoni[src]

Blood Oath's cancellation deemed the events that would have happened in it non-canon. The 2010 Fate of the Jedi novel Fate of the Jedi: Backlash, however, featured Zekk and Taryn Zel in minor roles. Set two years after Invincible, it established that Zekk had re-emerged six months after his disappearance romantically involved with Zel, and that neither of them had answered any questions regarding where they had been. The two went on to appear in several other volumes of the nine-book Fate of the Jedi series, as did Jagged Fel and the Imperial Moff Drikl Lecersen, both of whom played prominent roles.

SOURCE INFO:

Wookieepedia
---
TITLE:

CREATOR(S):

Christie Golden

PUBLISHER:

Del Rey

DESCRIPTION:

Blood Oath was a novel set to be written by Elaine Cunningham and released in April 2009. Issues beyond the author's control led to delays in the submission of the manuscript, which caused Blood Oath's release date to be pushed back first to December, and then to April 2010.

In August 2009, Lucasfilm Ltd. and Del Rey had yet to receive a manuscript, and decided to cancel the book.

SUMMARY:

Sword of the Jedi was to be a trilogy of novels written by Christie Golden. The storyline was to have taken place sometime after the conclusion of the Fate of the Jedi series and would have focused on Jedi Master Jaina Solo Fel and her husband Jagged Fel. The series would have also featured Tahiri Veila, Ben Skywalker, and Allana Solo.

The Sword of the Jedi series has been canceled indefinitely due to the announcement from Disney Publishing Worldwide and Random House about the relaunch of the Star Wars adult novel continuity.

SOURCE INFO:

Wookieepedia
---
TITLE:

CREATOR(S):

Paul Kemp

PUBLISHER:

Del Rey

DESCRIPTION:

On September 24, 2010, Sue Rostoni announced on the StarWars.com message boards that Paul S. Kemp had been contracted to write the duology, and on September 28 she confirmed that the novels would be released in hardcover.

SUMMARY:

On June 27, 2013, Kemp verified during his Reddit "Ask Me Anything" that the duology was on "standby" as a result of the Disney–Lucasfilm Ltd. deal and the impending Episode VII The Force Awakens. It was later announced on April 25, 2014 that Kemp was writing a new novel, Lords of the Sith, scheduled for a March 2015 release.

On April 3, 2016, Kemp stated on his Twitter account that he had stopped production on the duology and that he had other projects for the future.

SOURCE INFO:

Wookieepedia
Short Stories and RPG Materials
---
---
---
---
---
---
---
---
---
---
---
---
---
---
---
---
---
---
---
---
---
---
---
---
---
---
---
---
---
---
---
---
---
---